Sage Gateshead appoints a new Director of Royal Northern Sinfonia and Classical Programme
Sage Gateshead announced today that James Thomas will take up the role of Director of Royal Northern Sinfonia & Classical Programme in the autumn this year. He joins from Manchester Camerata where he is Creative Director.
Abigail Pogson, Managing Director of Sage Gateshead said: "We are thrilled to appoint James to lead Royal Northern Sinfonia and our Classical Programme at Sage Gateshead. There is a huge sense of momentum with the orchestra and in our programme just now and we are all really excited to work with James to take this forward."
James Thomas, incoming Director of Royal Northern Sinfonia and Classical Programme said: "Ever since I was a professional musician, chamber orchestras have always had a special place in my heart, so I'm delighted to be joining RNS and Sage Gateshead at an exciting time. Chamber orchestras are at the forefront of innovation and change and this is a unique orchestra in an amazing part of the UK. I can see an exciting and inclusive future for music in the region"
Dinis Sousa, Principal Conductor, Royal Northern Sinfonia said: "I'm really excited that James is joining us at RNS. This has been a big year for us, with newly appointed players and exciting new projects, and I'm looking forward to working with James to continue to develop the work that the orchestra does at home, regionally and internationally.
James grew up in South Wales and started his musical career aged 8 as a flautist. He went on to take up the bassoon at the Junior Department of the Royal Welsh College of Music and Drama. He graduated from the Royal Northern College of Music in 2009 and then studied at the Conservatorio Di Musica in Mantova, Italy and subsequently freelanced across Europe.
James set aside his bassoon to move into orchestral management as General Manager of Sinfonia Cymru. Following his time on the ABO Find Your Way programme he moved to Manchester Camerata where he has been Creative Director for five years.
At Manchester Camerata, James has helped develop the orchestra's programming identity in Manchester and across the North in partnership with the orchestra, a series of artistic partners and Music Director Gábor Takács-Nagy. He has developed strong links in their new home in Gorton in Manchester, secured international tours and built new partnerships for performance and recording in the UK. He worked to bring the community and performance aspects of the orchestras work even closer together with the orchestra at the heart, and during the pandemic he developed new creative projects, including the digital project Untold – Manchester Camerata.
Founded in 1958, Royal Northern Sinfonia is one of the world's leading chamber orchestras. RNS is based at Sage Gateshead and serves the North through activity and performances across the region. The orchestra regularly flies the flag for the region by touring internationally and appearing at major festivals. Just last weekend Sage Gateshead and Royal Northern Sinfonia welcomed BBC Proms to the venue for the first time.
Principal Conductor Dinis Sousa has just completed his first season with RNS. He brings a fantastic new energy to the orchestra which has worked with many international conductors and soloists including Christian Tetzlaff, Sir Roger Norrington, Paul McCreesh, Jess Gillam, Nicholas McGegan, Mahan Esfahani, Viktoria Mullova and Jessica Cottis, and also collaborated with leading popular voices such as Sting, Ben Folds, John Grant, Mercury Rev, Field Music and Maxïmo Park.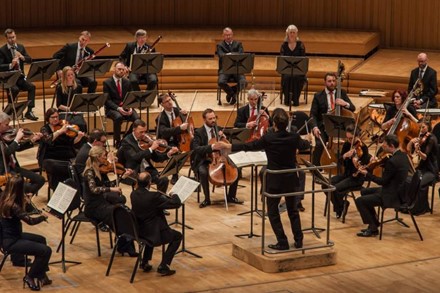 ENDS
For further information, interviews or images please contact:
Susie Gray, The Corner Shop PR
E: susie@thecornershoppr.com M: 07834 073795
Royal Northern Sinfonia, Orchestra of Sage Gateshead, is the UK's only full-time chamber orchestra. Founded in 1958, RNS has built a worldwide reputation for the North East through the quality of its music-making and the immediacy of the connections the musicians make with audiences.
The orchestra regularly flies the flag for the region at major festivals, most recently welcoming BBC Proms to Sage Gateshead for the first time with a programme featuring RNS and the recently formed choir of young local singers, Voices of the River's Edge. They have also appeared frequently at venues and festivals in Europe, including La folle journée in Nantes. In recent seasons they have toured to Vienna, Budapest, Istanbul and Tokyo.
RNS has commissioned new music by David Lang, John Casken, Tansy Davies, Errollyn Wallen and James Weeks amongst others, and runs an annual Young Composers Competition.
In order to engage with the widest possible range of artists and audiences, in 2018 RNS founded its inclusive ensemble RNS Moves.  RNS Moves brings together musicians with and without disabilities to rehearse and perform at Sage Gateshead. The group features members of Royal Northern Sinfonia performing alongside disabled musicians.
RNS programmes accessible and relaxed performances throughout the season and has always been actively involved in local communities and in education. Musicians support young people learning musical instruments through Sage Gateshead's Centre for Advanced Training and through In Harmony Newcastle.

About Sage Gateshead
Sage Gateshead is an international music centre for the North East and wider North. Through music, creative learning and artist development, the charity demonstrates what music can achieve for communities.
Since opening in 2004, Sage Gateshead has worked side by side with partners and the wider community to help address the complex blend of social and economic challenges the region faces. Sage Gateshead has brought social, cultural and educational value to over 10 million people and millions more via digital and broadcast activity. The scale of its artistic, learning and artist development activity places Sage Gateshead amongst the UK's largest cultural charities, while reaching a substantially more socially and economically diverse audience.
Sage Gateshead continues to be a major employer bringing investment and tourism into the region. The charity has so far generated a c. £500 million contribution to the local economy, a sum seven times greater than its combined capital cost of the building.
500,000 people attend performances by Sage Gateshead each year with a further 6 million via stream, broadcast and online. The building attracts 2 million visitors; 5,000 people take part in weekly music classes; 17,854 school children experience live orchestral music and a further 2,418 vulnerable young people; more than 2,000 adults a week take part in music making designed to tackle social isolation.